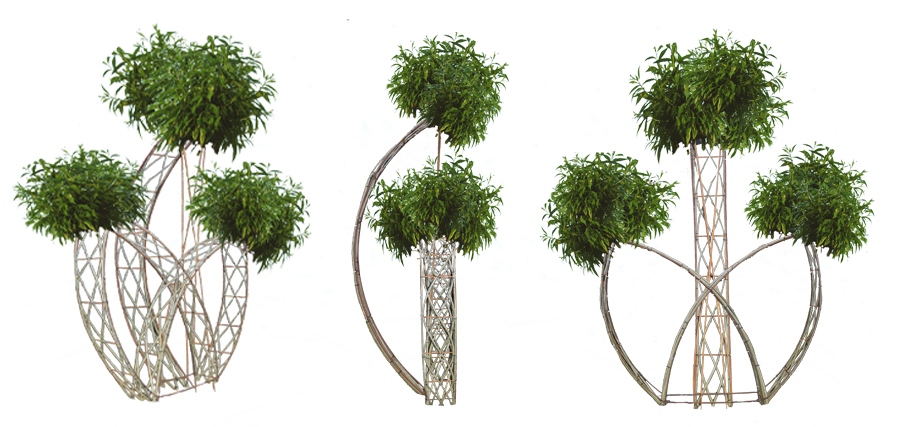 Baugaarden's participation at the "Grand Gardening Days 2012" became the beginning of a professional collaboration between Heinrich Braun and Egeskov Castle. In April 2013 a large sculpture of living willow was created for Egeskov Castle and established at the main entrance to the beautiful park.
The sculpture war initially intended for the private garden of Countess Caroline and Count Michael Ahlefeldt. In autumn 2012, several prototypes were developed at Baugaarden and in March 2013 Heinrich Braun presented the final model.
It was decided that the public should also have the pleasure of the beautiful sculpture. It was placed in the centre of the roundabout at the main entrance to the park.
The sculpture is made of 30 living willows fastened to a stand made of iron. It forms the initials of the count couple's first names "C" and "M". The sculpture is made in two parts, which were transported to Egeskov Castle and subsequently arranged on site. For stability the two parts have been welded together.
On order to get the right height of the sculpture, Heinrich Braun has used three year old willow sticks of the variety "Bleu" (Salix Purpurea x Daphnoides). In future the willow sticks will grow together where they cross.
"It has been a very exiting challenge to create a living sculpture with a personal touch for the countess and count at Egeskov Castle – a place that holds so much history, tradition and culture."
Heinrich Braun, Baugaarden Living Art
The photo gallery below shows when the sculpture was established at Egeskov Castle 25th April 2013. Furthermore, a long row of 'Sif' sculptures were planted to point the way from the main entrance to the castle.
The park at Egeskov Castle has been awarded several times for its beautiful architecture and unique plants. The castle won in 2012 the prestigious European Garden Award.
Gallery